Ages 14 - Adult
Combat CFMA is proud to be partnering with the Medina Police Department to present an exceptional, highly effective Women's Self-Defense Program designed to work in real life confrontations.  Learn More »
Enter your email address to be notified when the next session is scheduled.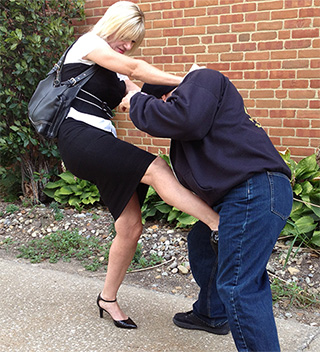 Personal safety is a growing concern these days. Unfortunately crime has become more prevalent than ever before. It is no longer confined to major urban areas. Suburban communities and rural areas are experiencing a large number of crime making acquiring the skills to defend oneself a must.
We believe that repetition is essential and that participating in a one hour self-defense class one time is not sufficient to prepare you for real life confrontations. It may give participants a foundation but it may also lead to a false sense of security. We are dedicated to making a difference and making our community safer and for this reason we have partnered with the Medina Police Department to offer a series of self-defense seminars for women.
Each seminar is 5 hours of focused training designed to empower female participants to take control of their personal safety through a plan of Prevention and Action. The training will help you develop street awareness, provide you with prevention tactics, as well as the essential concepts and methods necessary to effectively fight back in real life confrontations.
Our hope is that the women participating in this program will never find themselves in a situation that threatens their personal safety. However, our goal is to help participants avoid being a victim while still preparing them mentally and physically to successfully defend themselves should such an attack occur.
Instructors:
Head Instructor - Sifu/Guru Kamille Louis
Kali Combat Instructor - Guro Brenda Louis