Head Instructor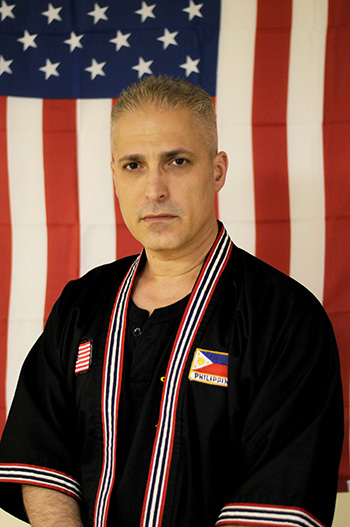 Sifu/Guro Kamille Louis is the owner and head instructor of Combat CFMA, Center of Functional Martial Arts. He is a master instructor with over 30 years of martial arts experience and is certified in 10 different arts. His expertise includes combative arts such as Filipino Kali, Kuntao Silat, JKD, and Jiu Jitsu, as well as the internal health art of Tai Chi.
Sifu Louis' passion for martial arts is evident in the personalized way that he teaches and in the time and energy he gives to his students. Sifu teaches a wide range of people from all walks of life, children to adults. Classes are for anyone interested in learning true self-defense, combative skills, and/or improving his/her overall fitness and health. In addition to regular classes, Sifu Louis has been and continues to provide specialized training for law enforcement in private sessions and small groups in the areas of defensive tactics, subject control and hand-to-hand combat.
SIFU LOUIS IS CERTIFIED IN THE FOLLOWING ARTS
Filipino Kali, Filipino Martial Arts, Jeet Kune Do, Wing Chun, Arnis, Maphilindo & Madjapahit Silat, San Shou, Jiu Jitsu, Tai Chi, Qi Gong
Lineage
SIFU LOUIS HAS STUDIED UNDER THE FOLLOWING TEACHERS
SIFU/GURO DAN INOSANTO
Jeet Kune Do - Kali - Silat - Wing Chun - Muay Thai - Brazilian Jiu Jitsu
Main Lineage: Bruce Lee, Johnny Lacoste
Note: In addition to the credential listed below, Sifu Louis is a certified instructor directly under Guro Dan Inosanto in the arts of Jeet Kune Do, Filipino Kali, and Silat
Sifu/Guro David Hatch
Jeet Kune Do - Kali - Silat - Submission Wrestling
Main Lineage: Guro Dan Inosanto
Sensei Bill Liming
Jiu Jitsu - Judo
Main Lineage: Frank Kovacs
Punong Guro Tony Marcial
Kali - Gung Fu
Main Lineage: Roberto Sarmiento.
Guro Manuel Estrella
Modern Arnis - Kuntao Gung Fu
Main Lineage: Remy Presas
Master Buddy Wu
Wing Chun Kung Fu
Main Lineage: Yip Man, HoKam Ming, Sifu Wu.
Master Bob Bennett
Tai Chi - Qi Gong - Gung Fu
Main Lineage: Huang Tzeng-Yu (Tom Huang)
With Loyalty and Respect
Sifu/Guro Kamille Louis