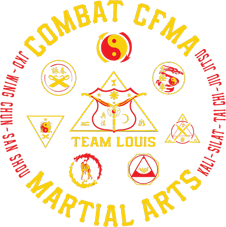 Combat Jeet Kune Do
"Mixed Martial Arts for Real Life"
JKD - Wing Chun - San Shou - Silat - Kali - Jiu Jitsu - Tai Chi
The Art
Our Combat Jeet Kune Do is a Mixed Martial Art designed for the street and for real life confrontations. It is a powerful blended combat system that utilizes the philosophy, and fighting concepts and methods of Bruce Lee's Jeet Kune Do, enhanced with Ip Man's Wing Chun, Chinese San Shou Gung Fu, South East Asian Kuntao Silat, Filipino Warrior Art of Kali, the Grappling Art of Jiu Jitsu, as well as the Internal Art of Tai Chi.
Our MMA System, "Combat JKD", is comprehensive, functional, realistic, and perfectly suited for today's modern environment.
Teaching
The JKD-MMA curriculum that we teach consists of several battle tested traditional warrior arts cohesively blended to create a superior combat system that focuses on realistic effective fighting applications and practical self-defense. It is a traditional warrior art with current concepts and methods of teaching practiced in a safe controlled environment.
Learning
No experience is necessary and you do not need to be in top physical condition. You will learn striking and grappling, stand up and ground as well as weapon fighting and defense in all ranges of combat. The training is done in a safe environment and takes into account factors such as age, physical condition, and skill level. If you are willing to learn, we will teach you.
Benefits
As you advance and develop your skills, you will become a confident well-rounded fighter capable of effectively defending yourself and loved ones if needed. You will also improve your overall health and fitness level while having fun and making friends with good people who share similar interests.
Objective
The main objective of the art is to develop the student into a well-rounded fighter in all ranges of combat in striking, grappling, as well as weapon fighting and defense. In addition, provide a framework for leading a positive way of life while following a true traditional warrior path that will lead to enlightenment in the mind, uplifting of the spirit, health in the body, and honesty in the heart.